Arabic letters change their shape according to their position in a word..

.

The Arabic script is essentially a cursive script, much like handwritten English. I.e. almost all the letters within a word are connected to each other. This necessitates certain changes in their shapes. If you write an English word cursively, then you will also make certain changes to the letters. For example, the letter "s" will be connected to the letter on the left with a diagonal stroke if that preceding letter is e.g. an "n".

However, in Arabic these changes can be quite drastic. Take a look at the following table that summarizes the letters in the Arabic alphabet and their shapes according to whether they are:
1) on their own (isolated),
2) at the start of a word
3) in the middle of a word
or
4) at the end of a word.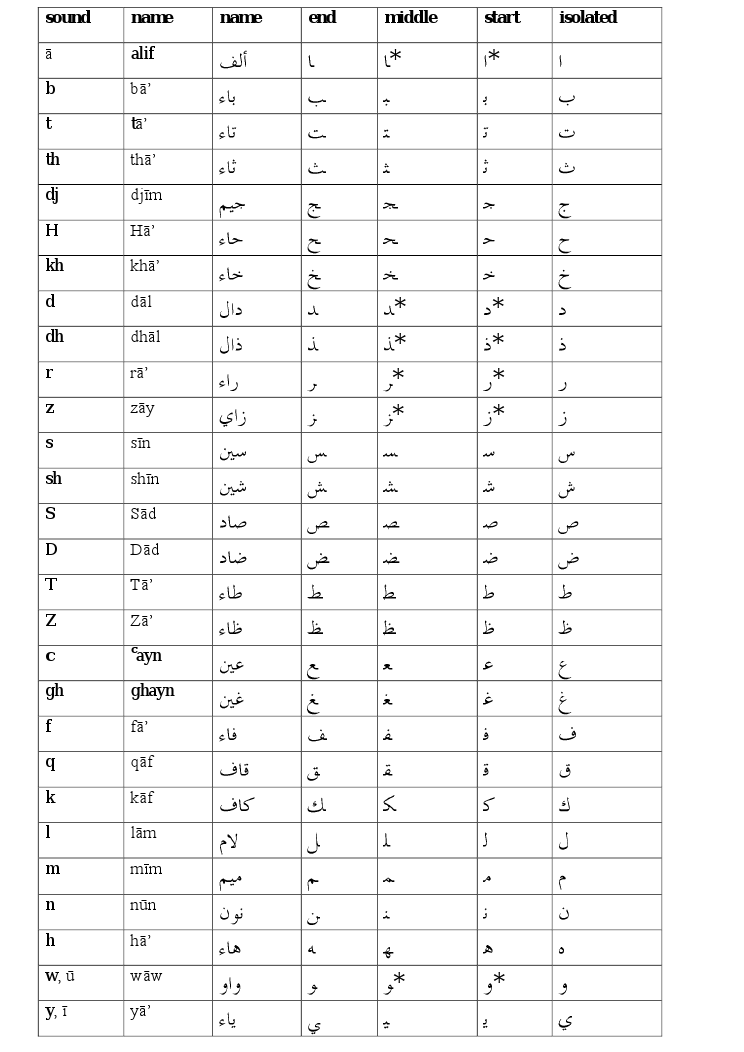 * The six letters marked with an asterisk (*) cannot be connected to the left.
You should write the letters a few times each to get a feeling for them.
If you want to learn how to read and write all the letters of the Arabic alphabet fast and without rote learning, then check out Arabic Genie's The Magic Key To The Arabic Alphabet.
Pronouncing the Arabic sounds
Now that you've had a first glance at the Arabic alphabet, you're ready to learn the pronunciation of the letters.
To hear the pronunciation of the Arabic letters you should head over to the Arabic letters application.
For simplicity let's divide the letters into three groups, according to their difficulty.
Easy
In this group are all the letters that are more or less exactly pronounced as their English counterparts.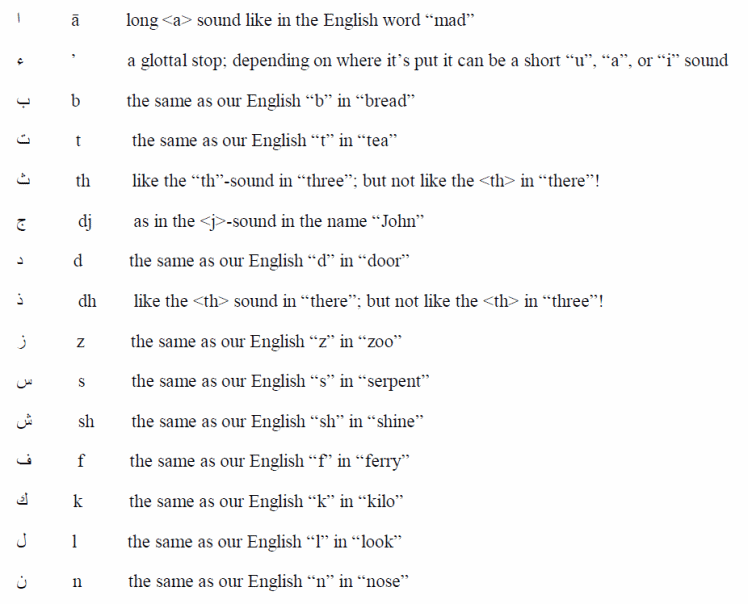 Medium
These letters are still somewhat similar to English sounds, but already more difficult to pronounce.

Difficult
These Arabic letters can prove tough to pronounce for beginners. Keep at it, though, and listen to recordings of native speakers. Eventually, your throat will hurt and you'll get it right!

Greeting Words …
Hello
MarhabaHow are you?
Kaeef halakGood morning
Sabah el khair
Good evening
Massa el khair
Greetings
TaHiat
Goodbye
MaAa es-salama
Excuse me
MaAzera
Sorry
Asef
Please
MinFadlak
Stop
Tawaqaf
Thank you
Shukran-Lak
Yes/No
NaAm/La
I don't Know
LaaAref
Who?/What?
Maza/Man
Where?/Why?
Ayna/Lemaza
How much?
Kam ath-thaman
How much does it cost?
Kam et-taklefa
How many?
Kam al Aadad
Do you speak English?
hal TaTaKalam alanglizia
I don't speak arabic
ana La ataKalam El Aarabya

What is your name?
ma iSmaK
Nice to meet you
sarertu Lemuqabalatek
My name is…
ismii…
How do I get to?
Kaeef yomKanany El Hosool ala?
Where is…?
Ayna
Is this the way to..?
Hal haza howa et-tareeq ela?
Can I drive here?
Hal yomkanany El qayada hona
I Think I'm lost
Annee mafqood
Is it safe/dangerous?
Hal howa aamen/khatar
Where can I buy…?
Ayna yomkanany shera?
Help!
mosaAda
I need a doctor
aHtaj ela Tabib
I have a fever
Aendee Huma
It hurts
Enahu Moalem
The pain is here
Al alam huna
Where is the bathroom?
Ayna Al Hamam
Do you have a phone?
Hal Ladika hatef
Where is the hospital?
Ayna Al mustashfaa
My car has broke down
Sayaratee TaAtalat
Where is the nearest garage/petrol station
Ayna aqrab Karaj/maHatet banseen
Where is the nearest cash machine?
Ayna aqrab Saraf aalee
I need water/food Can you take me to…?
aHtaj ela myah wa TaAam hal TastatiaA An TaaKhoznee Le
My friend is hurt or sick
sadeeqee moTaab/mareed
Arabic basic verbs (

أفعال أساسية

)
| | | | | |
| --- | --- | --- | --- | --- |
| English | Standard Arabic | Transliteration | Egyptian Arabic | Transliteration |
| to be (not used in present tense) | كان – يكون (كون) | kaana – yakuunu (koon) | " | kaan – yikuun (koon) |
| to do; to make | فعل – يفعل (فعل) | fa3ala – yaf3alu (fa3l) | عمل – يعمل | 3amal – yi3mil (3amal) |
| to work | عمل – يعمل (عمل) | 3amala – ya3milu (3amal) | اشتغل – يشتغل (سغل) | ištaġal – yištaġil (šuġl) |
| to bring, fetch | أحضر – يحضر (احضار) | aHDara – yuHDiru (iHDaar) | جاب – يجيب (جيبان) | gaab – yigiib (gayabaan) |
| to take | أخذ – يأخذ (أخذ) | axada – ya'xudu (axd) | خد – ياخد (اخد) | xad – yaaxud (axd) |
| to put | وضع – يضع (وضع) | waDa3a – yaDa3u (waD3) | حطّ – يحطّ (حطّ) | HaTT – yiHoTT (HaTT) |
| to become | أصبح – يصبح (اصباح) | aSbaHa – yuSbiHu (iSbaaH) | بقى – يبقى | ba'a – yib'a |
| to change (s.t.) | غيّر – يغيّر (تغيير) | ġayyara – yuġayyiru (taġyiir) | " | ġayyar – yiġayyar (taġyiir) |
| to count | عدّ – يعدّ (عدّ) | 3adda – ya3uddu (3add) | " | 3add – yi3idd (3add) |
| to go (to) | ذهب – يذهب (ذهاب) إلى | dahaba – yadhabu (dahaab) ila | راح – يروح (مرواح | روحان) | raaH – yiruuH (mirwaaH/rawaHaan) |
| to walk | مشى – يمشي (مشي) | maša – yamši (mašy) | مشي – يمشي (مشي) | miši – yimši (mašy) |
| to run | جرى – يجري (جري) | jara – yajri (jary) | " | geri – yigri (gary) |
| to come | جاء – يجئ (جيئة) | jaa'a – yajii'u (jii'a) | جه – يجي (مجي) | geh – yiigi (migiyy) |
| | أتى – يأتي (اتي) | ata – yaa'ti (aty) |   | |
| to return | رجع – يرجع (رجوع) إلى | raja3a – yarja3u (rujuu3) | " | rigi3 – yirga3 (ruguu3) |
| | عاد – يعود (عودة) إلى | 3aada – ya3uudu (3awda) |   | |
| to arrive | وصل – يصل (وصول) إلى | waSala – yaSilu (wuSuul) ila | وصل – يوصل (وصول) | wiSil – yiwSil (wuSuul) |
| to sit | جلس – يجلس (جلوس) | jalasa – yajlisu (juluus) | قعد – يقعد (قعاد) | 'a3ad – yu'3ud ('u3aad) |
| to get up, rise | قام – يقوم (قيام) | qaama – yaquumu (qiyaam) | " | 'aam – yi'uum ('iyaam) |
| to fall | وقع – يقع (وقوع) | waqa3a – yaqa3u (wuquu3) | وقع – يوقع (وقوع) | wi'i3 – yiw'a3 (wu'uu3) |
| | سقط – يسقط (سقوط) | saqaTa – yasquTu (suquuT) |   | |
| to go up | طلع – يطلع (طلوع) | Tala3a – yaTla3u (Tuluu3) | " | Tili3 – yiTla3 (Tuluu3) |
| to go down | نزل – ينزل (نزول) | nazila – yanzilu (nuzuul) | " | nizil – yinzil (nuzuul) |
| to cook | طبخ – يطبخ (طبخ) | Tabaxa – yaTbuxu (Tabx) | " | Tabax – yiTbux (Tabx) |
| to eat | أكل – يأكل (أكل) | akala – yaa'kulu (akl) | كل – ياكل (أكل) | kal – yaakul (akl) |
| to drink | شرب – يشرب (شرب) | šariba – yašrabu (šurb) | " | širib – yišrab (šurb) |
| to wake up | صحى – يصحو (صحو) | SaHa – yaSHu (SaHw) | صحي – يصحى (صحو) | SaHa – yiSHa (SaHw) |
| | استيقظ – يستيقظ (استيقاظ) | istayqaZa – yastayqiZu (istiiqaaZ) |   | |
| to sleep | نام – ينام (نوم) | naama – yanaamu (nawm) | " | naam – yinaam (noom) |
| to wash | غسل – يغسل (غسل) | ġasala – yaġsilu (ġasl) | " | ġasal – yiġsil (ġasl/ġasiil) |
| to clean | نظّف – ينظّف (تنظيف) | naZZafa – yunaZZifu (tanZiif) | " | naZZaf – yinaZZaf (tanZiif) |
| to study | درس – يدرس (دراسة) | darasa – yadrusu (diraasa) | " | daras – yidris (diraasa) |
| to learn | تعلّم – يتعلّم (تعلّم) | ta3allama – yata3allamu (ta3allum) | اتعلّم – يتعلّم (تعلّم) | it3allim – yit3allim (ta3allum) |
| to understand | فهم – يفهم (فهم) | fahima – yafhamu (fahm) | " | fihim – yifham (fahm) |
| to know | عرف – يعرف (معرفة) | 3arafa – ya3rifu (ma3rifa) | " | 3irif – yi3raf (ma3rifa) |
| to remember | تذكر – يتذكر (تذكر) | tadakkara – yatadakkaru (tadakkur) | افتكر – يفتكر (افتكار) | iftakar – yiftikir (iftikaar) |
| to forget | نسي – ينسى (نسي) | nasiya – yansaa (nasi) | " | nisi – yinsa (nasi) |
| to describe | وصف – يصف (وصف) | waSafa – yaSifu (waSf) | وصف – يوصف (وصف) | waSaf – yiwSif (waSf) |
| to try, test (s.t) | جرّب – يجرّب (تجريب) | jarraba – yujarribu (tajriib) | " | garrab – yigarrib (tagriib) |
| to try, attempt to do s.t. | حاول – يحاول (محاولة) أن | Haawala – yuHaawilu (muHaawala) an | " | " |
| to be able to do s.t. | قدر – يقدر (قدرة) أن | qadara – yaqdiru (qudra) an | " | 'idir – yi'dir ('odra) |
| | استطاع – يستطيع (استطاعة) أن | istaTaa3a – yastaTii3u (istiTaa3a) an |   | |
| to read | قرأ – يقرأ (قراءة) | qara'a – yaqra' (qiraa'a) | قرأ – يقرأ (قراية) | 'ara – yi'ra ('iraaya) |
| to write | كتب – يكتب (كتابة) | kataba – yaktubu (kitaaba) | " | katab – yiktib (kitaaba) |
| to translate | ترجم – يترجم (ترجمة) | tarjama – yutarjimu (tarjama) | " | targam – yitargim (targama) |
| to talk (reflexive) | تكلّم – يتكلّم (كلام | تكلّم) | takallama – yatakallamu (kalaam/takallum) | اتكلّم – يتكلّم (كلام) | itkallim – yitkallim (kalaam) |
| | تحدّث – يتحدّث (تحدّث) | taHaddata – yataHaddatu (taHaddut) |   | |
| to say, tell | قال – يقول (قول) | qaala – yaquulu (qawl) | " | 'aal – yi'uul ('awl) |
| to ask (a question) | سأل – يسأل (سؤال) | sa'ala – yas'alu (su'aal) | " | " |
| to request | طلب – يطلب (طلب) | Talaba – yaTlubu (Talab) | " | " |
| to reply, answer (to) | أجاب – يجيب (اجابة) على | ajaaba – yujiibu (ijaaba) 3ala | " | agaab – yigiib (igaaba) 3ala |
| | ردّ – يردّ (ردّ) على | radda – yarudd (radd) 3ala | " | " |
| to thank | شكر – يشكر (شكر) | šakara – yaškuru (šukr) | " | šakar – yiškur (šukr) |
| to complain (about) | شكى – يشكو (شكوى) من | šaka – yašku (šakwa) min | اشتكى – يشتكي (شكوى) من | ištaka – yištiki (šakwa) min |
| to promise | وعد – يعد (وعد) بـ | wa3ada – ya3idu (wa3d) bi | وعد – يوعد (وعد) | wa3ad – yiw3id (wa3d) bi |
| to see | رأى – يرى (رؤية) | ra'a – yara (ru'ya) | شاف – يشوف (شوفان | شوف) | šaaf – yišuuf (šawafaan/šoof) |
| to look at | نظر – ينظر (نظر) إلى | naZara – yanZuru (naZar) ila | بصّ – يبصّ (بصّ | بصصان) على | baSS – yibuSS (baSS/baSaSaan) 3ala |
| to look for | بحث – يبحث (بحث) عن | baHata – yabHatu (baHt) 3an | دوّر – يدوّر (تدوير) على | dawwar – yidawwar (tadwiir) 3ala |
| to find | وجد – يجد (وجود) | wajada – yajidu (wujuud) | لاقى – يلاقي | laa'a – yilaa'i (la'ayaan) |
| to lose (s.t.) | ضيّع – يضيّع (تضييع) | Dayya3a – yuDayyi3u (taDyii3) | " | " |
| to organize | نظّم – ينظّم (تنظيم) | naZZama – yunaZZimu (tanZiim) | " | " |
| to organize, tidy up | رتّب – يرتّب (ترتيب) | rattaba – yurattibu (tartiib) | " | " |
| to smoke (in general) | دخّن – يدخّن (تدخين) | daxxana – yudaxxinu (tadxiin) | " | " |
| to happen | حدث – يحدث (حدوث) | Hadata – yaHdutu (Huduut) | حصل – يحصل (حصول) | HaSal – yiHSal (HuSuul) |
| to watch | شاهد – يشاهد (مشاهدة) | šaahada – yušaahidu (mušaahada) | اتفرّج – يتفرّج على | itfarrag – yitfarrag 3ala |
| to hear | سمع – يسمع (سمع | سماعة) | sami3a – yasma3u (sam3/samaa3a) | " | simi3 – yisma3 (sama3) |
| to listen to | استمع – يستمع (استماع) إلى | istama3a – yastami3u (istimaa3) ila | سمع – يسمع (سمع) | simi3 – yisma3 (sama3) |
| to give | أعطى – يعطي (اعطاء) | a3aTa – ya3aTi (i3Taa') | ادّى – يدّي (مدّية) | idda – yiddi (middiyya) |
| to carry | حمل – يحمل (حمل) | Hamala – yaHmilu (Haml) | شال – يشيل (شيل | شيلان) | šaal – yišiil (šeil/šayalaan) |
| to love | أحبّ – يحبّ (حبّ) | aHabba – yuHibbu (Hubb) | حبّ – يحبّ (حبّ) | Habb – yiHibb (Hubb) |
| to hate | كره – يكره (كره | كراهة) | kariha – yakrahu (karh/karaaha) | " | karah – yikrah (karh/karaaha) |
| to be born | وُلد – يُولد (ولادة) | wulida – yuuladu (wilaada) | اتولد – يتولد | itwalad – yitwalad |
| to live | عاش – يعيش (معيشة) | 3aaša – ya3iišu (ma3iiša) | " | " |
| to live (in a place) | سكن – يسكن (سكن) في | sakana – yaskunu (sakan) fi | " | " |
| to die | مات – يموت (موت) | maata – yamuutu (moot) | " | " |
| to pass away | توفّي – يتوفي (وفاة) | tuwuffiya – yutawaffayu (wafaah) | اتوفى – يتوفي (وفاة) | itwaffa – yitwaffi (wafaah) |
| to wait | انتظر – ينتظر (انتظار) | intaZara – yantaZiru (intiZaar) | استنى – يستني | istinna – yistinni |
| to buy | اشترى – يشتري (شراء) | ištara – yaštari (širaa') | " | ištara – yištiri |
| to sell | باع – يبيع (بيع) | baa3a – yabii3u (bii3) | " | " |
| to pay; to push | دفع – يدفع (دفع) | dafa3a – yadfa3u (daf3) | " | dafa3 – yidfa3 |
| to push |   | | زق – يزق (زق) | za" – yizu" (za") |
| to open (s.t.) | فتح – يفتح (فتح) | fataHa – yaftaHu (fatH) | " | fataH – yiftaH (fatH) |
| to close (s.t.) | غلق – يغلق (غلق) | ġalaqa – yaġliqu (ġalq) | قفل – يقفل | 'afal – yi'fil |
| to begin, start (s.t.) | بدأ – يبدأ (بدء) | bada'a – yabda'u (bad') | " | bada' – yibda' |
| to end (reflexive) | انتهى – ينتهي (انتهاء) | intaha – yantahi (intihaa') | " | " |
| to stop (reflexive); to stand up | وقف – يقف (وقف | وقوف) | waqafa – yaqifu (waqf/wuquuf) | " | wi'if – yiw'af (wa'f) |
| to finish (s.t.) | خلّص – يخلّص (تخليص) | xallaSa – yuxalliSu (taxliiS) | " | xallaS – yixallaS (taxliiS) |
| |   | | شطّب – يشطّب (تشطيب) | šaTTab – yišaTTab (tašTiib) |
| to stop (reflexive); to stand up | وقف – يقف (وقف | وقوف) | waqafa – yaqifu (waqf/wuquuf) | " | wi'if – yiw'af (wa'f) |
| to play | لعب – يلعب (لعب) | la3aba – yal3ibu (li3b) | " | " |
| to use (s.t.) | استخدم – يستخدم (استخدام) | istaxdama – yastaxdimu (istixdaam) | " | " |
| | استعمل – يستعمل (استعمال) | ista3mala – yasta3milu (isti3maal) | " | " |
| to enter | دخل – يدخل (دخول) | daxala – yadxulu (duxuul) | " | daxal – yudxul |
| to go out | خرج – يخرج (خروج) | xaraja – yaxruju (xuruuj) | " | xarag – yixrag |
| to leave | غادر – يغادر (مغادرة) | ġaadara – yuġaadiru (muġaadara) | ساب – يسيب | saab – yisiib |
| to ride (ex. a taxi) | ركب – يركب (ركوب) | rakiba – yarkabu (rukuub) | " | rikib – yirkab |
| to send | أرسل – يرسل (ارسال) | arsala – yursilu (irsaal) | بعت – يبعت | ba3at – yib3at |
| to receive | استلم – يستلم (استلام) | istalama – yastalimu (istilaam) | " | istalam – yistilim (istilaam) |
| to think (about s.t.) | فكّر – يفكّر (تفكير) | fakkara – yufakkiru (tafkiir) | " | fakkar – yifakkar (tafkiir) fi |
| to think (that) | ظنّ – يظنّ (ظن) أن | Zanna – yaZunnu (Zann) anna | افتكر – يفتكر | iftakar – yiftikir |
| to believe (that) | اعتقد – يعتقد (اعتقاد) | i3taqada – ya3taqidu (i3tiqaad) anna | " | " |
| to need (s.t.) | احتاج – يحتاج (احتياج) إلى | iHtaaja – yaHtaaju (iHtiyaaj) ila | " | iHtaag – yiHtaag |
| to want (to) | أراد – يريد (ارادة) | araada – yuriidu (iraada) an | عايز – عايزة | 3aayiz/3aayza (or 3aawiz/3aawza) – active participle |
| to succeed | نجح – ينجح (نجاح) | najaHa – yanjaHu (najaaH) | " | nagaH – yingaH (nagaaH) |
| to fail | فشل – يفشل (فشل) | fašila – yafšalu (fašal) | " | " |